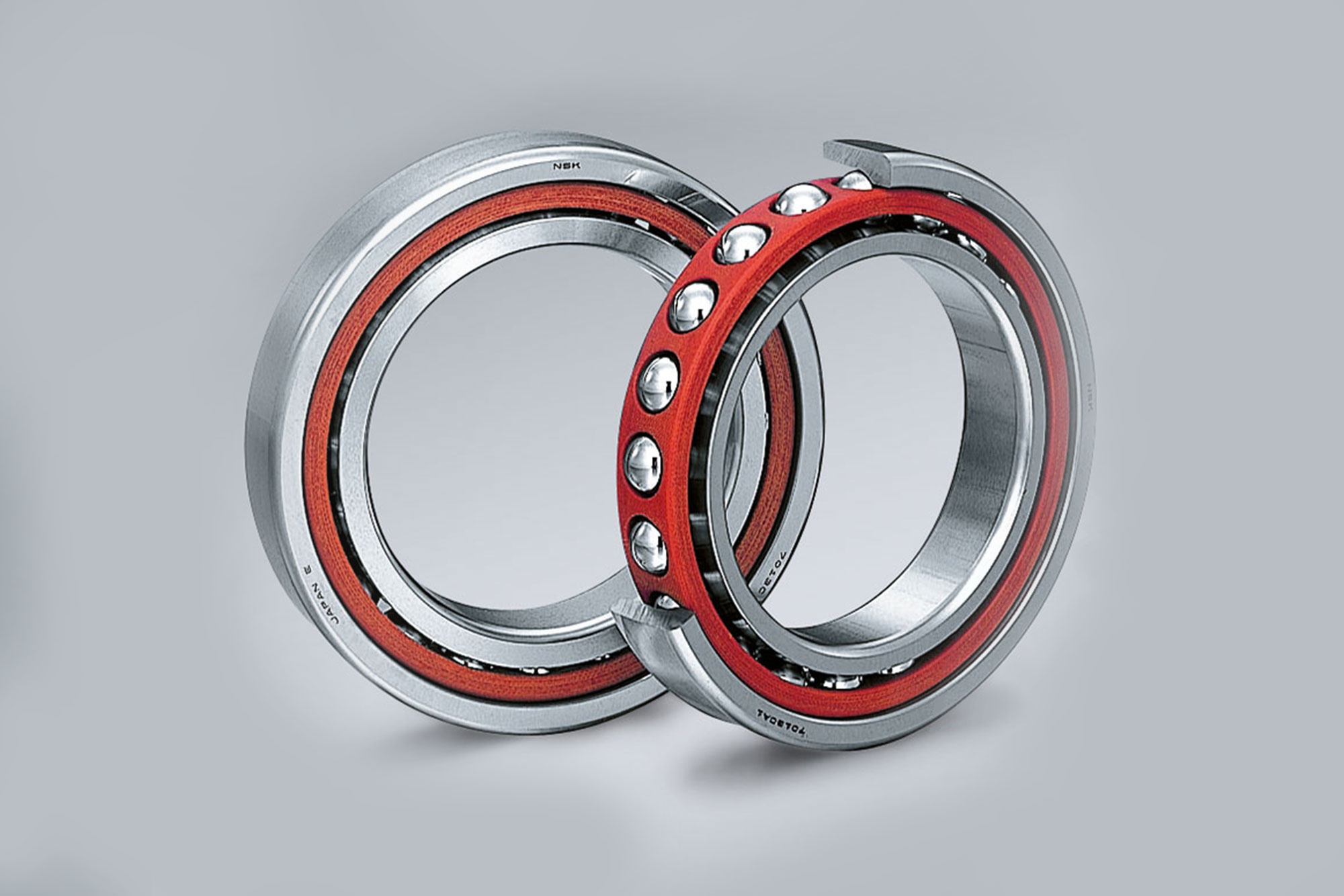 NSK is a world leader in the manufacture and technological development of roller bearings, automotive, linear motion products and steering systems, and has one of the widest ranges of precision bearings for machine tools and spindles in the world.
Bianchi Industrial is an authorised NSK distributor and a leader in the distribution of industrial transmission components. The company provides the machine tool market with stocks of the entire range of NSK precision bearings for high and very high speeds:
High-speed angular contact (STANDARD series)
Very high-speed angular contact (ROBUST series)
High-rigidity angular contact thrust bearings (BAR and BTR series)
High-rigidity double row cylindrical roller bearings
Single row cylindrical roller bearings for high speeds
Rigid radial precision bearings (6000 TCG12 series)
Single universal fitball screw support bearings (TAC and BSB series)
Angular contact thrust ball bearings for ball screw supports (double row) (BSN and BSF series)
MATERIALS: NSK USES HIGH-PERFORMANCE MATERIALS TO SUPPORT THE DEVELOPMENT OF SPINDLES AND ELECTROSPINDLES
High-carbon steels, special steels, ceramic materials and technopolymers guarantee the high performance of NSK precision bearings
The high standards achieved with NSK precision bearings, thanks to the use of high-performance materials, support the natural evolution of machine tools and the definition of spindle and electrospindle requirements, especially in terms of reliability.
Materials for rings and roller bearings:
Z steel: it is well-known that the resistance to fatigue of high-carbon, chromium alloy steel (SAE 52100, SUJ2) used to produce roller bearings is affected significantly by including non-metals. Z steel is produced by reducing the amount of non-metal oxides included, and demonstrates better performance levels.
SHX steel: is special heat-resistant steel obtained through a special thermal treatment developed by NSK. It is characterised by high resistance to wear, seizure and fatigue.
Silicon nitride (S13N4): hybrid bearings made of ceramic have numerous excellent characteristics, including resistance to heat, longer life, reduced weight, less heat expansion, and are non-conductive. They are therefore used in a large number of applications as a latest-generation material.
Cage materials:
Polyamide resin: (TYN): This special design enables bearings to have less friction and be quieter
Phenolic resin: The rotating motion of the cage guided on the external ring is more stable during high-speed operation
PPS resin: Excellent physical properties, including strength, high resistance to wear, fatigue and high temperatures up to a maximum of 220°C
PEEK resin: excellent physical properties, including strength, high resistance to wear and fatigue. Ideal for minimum oil lubrication
SIZING: NSK TECHNICAL SUPPORT AVAILABLE TO THE MARKET
BIANCHI INDUSTRIAL, with the support of NSK and using innovative software, can help customers decide on the best size of precision bearings to meet their requirements
The technical service which BIANCHI INDUSTRIAL provides for the machine tool market supports customers in choosing the most suitable precision bearing for their application, and through the entire process to design and implement the machine tool or spindle. Technical support provided by BIANCHI INDUSTRIAL is organised as follows:
Calculation of the theoretical lifetime of the set of precision bearings
Verification of the axial and radial rigidity of the spindle
Definition of the precision bearing assembly conditions
Post-operations analysis of the precision bearings
Training courses for technical personnel and operators
Consult the NSK technical catalogues dedicated to the world of machine tools and, more specifically, precision bearings for spindles and recirculating ball screw supports.
 BIANCHI INDUSTRIAL technical personnel can meet any customer request for documentation in the form of NSK catalogues, or 2D rather than 3D designs.